To the right is the 'plant nursery' at the Project land with over 1,500 young grape plants, grown from last season's prunings. There is a growing demand for grape plants. Next season we shall have several thousand plants to sell to local growers at 'bargain' prices. The income will assist the basic operation of this work and the sales will also be a good step towards expanding the grape industry in this region. Yesterday, Saturday, two of our team were out responding to requests for advice on grape growing.

Working closely with communities in rural central Tanzania to establish and sustain:

Water Resources, Agriculture & Forestry Development, Education, Health and Nutritian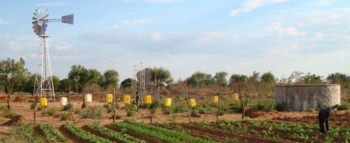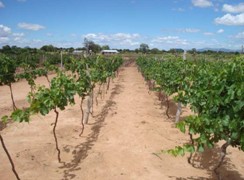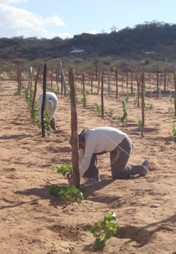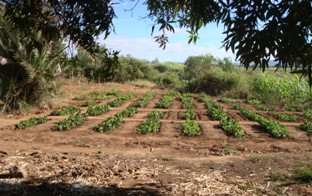 In the central region of Tanzania, vineyards produce two crops per year.  Grapes do not need a lot of water, but they do need it at critical times.  Developing water wells and drip irrigation has been essential. In the Amani drive towards a greater degree of local sustainability there is an emphasis on the development and extension of grape development. Working in cooperation with the Government Grape Research Center north of Dodoma, three neglected vineyards on the Amani property near Makang'wa have been revived.  During 2006 and 2007, hundreds of yards of new trenches were dug and filled with manure in preparation for expanding the vineyards. 

Through the training and encouragement of the officers from the Grape Research Center and training received from Mr. Dirk Bosman of DISTELL, South Africa (Voluntarily offered) the Amani team is now well trained.  Vineyards at Amani now feature Chenin Blanc, Makutupora Red, Black Rose and three other varieties.  To avoid reliance on the wine industry, efforts are also underway to develop markets for grape juice, table grapes and raisins.  The Vineyards of Amani will also serve as a Vocational Training Center (workers learning pruning shown at left) for farmers in the region.

At the Amani Center we expect to plant two further sections by the end of the year. On June 15 the Chenin Blanc will be harvested (VERY SWEET). The Makutupora Red will be harvested in late July or early August. This expanding program will, over the coming years, provide a substantial contribution towards local sustainability. However of even more significance is the training of local people in the growing of strong and productive grape vines. It is now encouraging to see regional grape growers coming and asking if our team can visit their grape farms to offer advice on the development of their vineyards. By the end of this year we shall have three developed teams: Amani Center, Igondola Project and Mvumi Makulu. Vocational training is at the heart of what we do. Each team will consist of men and women.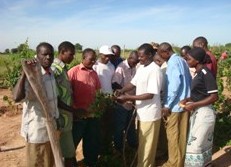 Recently Amani was inspected by officers from the Department of Agriculture. Out team received an A+ approval for their work! This is great joy for them and for us. It means that the vision for this Center is unfolding. The great need in the region is WATER. The living standard of many, many thousands would be raised if people has access to sufficient water. There is plentiful water underground. We now provide water to several local grape growers but very few can afford the cost of transport. An investment of $1,000,000.00 in regional water wells would, in a few years, convert to many, many millions of shillings in local household income.

Igondola Grape Project

Closely related to the work with the Children of Peace is the Project on the Mvumi Mission Rd., about 4km from the Center. Over the past rear I have managed to buy small adjoining parcels of land which now total seven acres.  Part of this is low lying land with a high water table. Two 20 ft deep traditional wells have been dug and brick lined. We are now in the early stages of developing a vineyard on the land. By year's end there will be at least 80 lines of vines – maybe more, supported with an established water system. We are confident that the income from this land will, in about three years, largely fund the basic operation of the Children of Peace Kindy and Pre School.